The first things you should clarify on what you want to do, and further we can assist with anything you do want to do!
What is the thing which you want to create?
a bowl, a teacup, a dish or a cup? Or is it a bottle or a sake bottle? What size does it have, is it a pot or a vase? Or maybe its even an art project you want to fulfill out of clay?  
does your creation desire producing original works , making your experience and the pieces unique?
Please challenge the thing which you want to do from the beginning, to have an aim. Towards an aim, the each person's passion that I want to help with a technique of the ceramic art and let you make it all the way through until you finalise it.
Our curriculum of teachers is so versatile, we can help with every level of experience in different types of classes.
Here is our basic policy.
I learn, and I use it and learn, and so the circle closes with beautiful pieces as a result, to then make it again….
come join us, and let your life be brightened up by ceramics too.
Instructors

KADOYA Fumio
Thurs、Fri、Sat>>
career
1980 Born in Obihiro city, Hokkaido
1998 Graduated from Hokkaido Takarazuka High School
2001 Tokyo National University of Fine Arts and Crafts
2007 Tokyo National University of Fine Arts Master's Program Crafts Completion Ceramics Completion
Exhibition
2003 "To the world that is not words" Blue Haven, Naka Meguro
2004 "Three Person Exhibition" Student Hall Castle Second Floor, Ueno
2006 "Sake bowl exhibition" National Gallery Street corner
2008 "Solo Exhibition" Chiba Ichinomiya Gallery 801
2009 "Exhibition for a novel" Hokkaido Shimizu Sawarabi Terrace
2010 "Multiple" Narita Gallery "Between"
2012 "Monday Tuesday Wednesday Friday Saturday – Connecting the Thought -" Ueno Tokyo Metropolitan Art Museum
2013 "VESITABLE" Harajuku Restaurant I
2014 "Mutation" Mita t.gallery
2015 "Landscape" Roppongi SAVOIR VIVRE
Website http://www.kadoyafumio.com

Mon、Wed>>
career
1975 Born in Iran, Nei Chabourg
1998 Sistan & Balouchestan College of Fine Arts Department of Crafts
2001 Graduated from ceramics field (B.F.A.) (Zahedan, Iran)
2007 Tokyo National University of Fine Arts and Crafts Ceramics field master's program
2010 Doctoral course at the Graduate School of Fine Arts, Tokyo University of the Arts
Exhibition
1999 "Ceramic Art Exhibition" Sureh Gallery (Zahedan, Iran)
Exhibited at 2005 "Human Rights Exhibition in the 21st Century"
UNICEF-UN Gallery (Tokyo – Osaka, Japan)
2006 exhibited at "The 7th International Ceramic Art Symposium"
(Queretaro and Mexico City, Mexico)
2006 "Porcelain in the Kalpurgan region"
The 8th International Ceramic Symposium ISCAEE
(Tsinghua University, Beijing, China)
2007 "SOSABEOL International Art Expo"
(Pyiong Taek, Korea)
2010 "Doctoral program at Tokyo National University of Fine Arts and Ceramics"
Keio Department Store 6th Floor Keio King Gallery
2011 "spring, palm vessel point" Momo Land Gallery
2011 "Shigakogen Highland Roman Art Museum" solo exhibition
2013 "50th Memorial Dressing Ceramic Work Ceramic Exhibition" Nihonbashi Mitsukoshi Main Store 6th Floor Art Square
Website http://www.teimoursabouri.com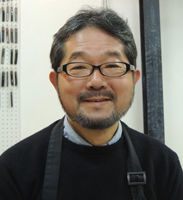 1st and 3rd Saturday>>
career
1954 Born in Tochigi prefecture.
1980 Graduated from Tokyo National University of Fine Arts and Crafts
1982 Completion of the College of Arts and Crafts,
After working as a professor of arts and crafts at the same university, he will become a part-time assistant at the same university.
1986 Studied under a human national treasure · Noho Fujimoto
1992 Independent in Ome, cake making
Exhibition
1993 Solo Exhibition at Fujino Ya (Tochigi Prefecture)
(Held '96,' 98, '00,' 02, '04,' 06, '09)
A solo exhibition at the Nipponbashi Takashimaya store
(Held '95,' 97, '99,' 01, '03,' 05, '07,' 10, '12)
Certified as a member of the Japan Arts Crafts Association
1997 Shinjuku Takashimaya exhibits "Fujimoto Nomichi · Disciples Exhibition"
1998 Exhibition Exhibition at Nihombashi Mitsukoshi Hotel New Otani
(00, '02, '06 exhibition) Purchase of the Japan Foundation work
Continuously at Nihombashi Mitsukoshi "Hirose Yoshiyuki Ceramic Exhibition"
(Held '00,' 02, '06)
2000 "Tadashi Fujimoto Nomichi Fujimoto's Princess Porcelain Exhibition" is exhibited at Tachikawa Takashimaya
2001 Nihonbashi Mitsukoshi "Utsuwa Exhibition of Ceramics and Food" (Hereafter '05 Exhibit)
2002 Ome shi work purchase
"Color painting porcelain 6 person exhibition" exhibited at Nippombashi Mitsukoshi 2003
2004 solo exhibition at Osaka Takashimaya (held '08 hereafter)
2005 solo exhibition at Yonago Tenmariya
2008 3rd Kikuchi Biennial Exhibition Selected (Hirofumi Kikuchi Memorial Satoshi Art Museum · Tokyo)
2010 solo exhibition at Gifu Takashimaya
2011 at Sano Municipal Yoshizawa Memorial Museum of Art (Tochigi Prefecture)
"Small Feature · Hirose Yoshiyuki's Color Painting" Exhibition
A solo exhibition at Yokohama Takashimaya ('13 held thereafter)

Currently Japanese regular craftsmen



About Studio